Bhagwan Shree Rajneesh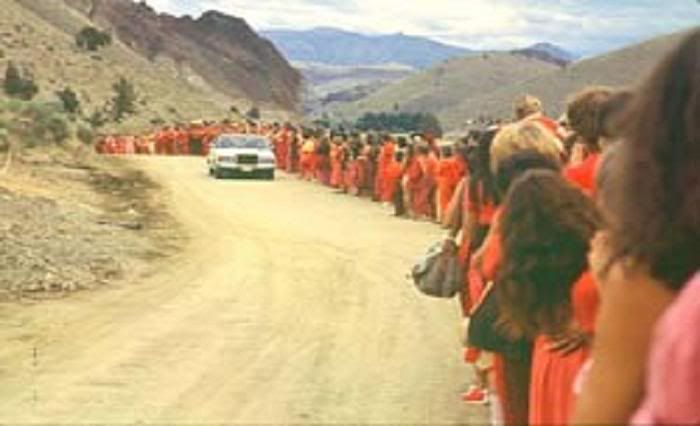 One of Bhagwan Shree Rajneesh's many Rolls Royce cars is greeted by his followers.



Bhagwan Shree Rajneesh's Communities
Indian mystic Bhagwan Shree Rajneesh founded several cultist towns in Oregon through the 1980s - strangely, communities chock full of Rolls Royce cars. Shree allegedly poisoned hundreds in Dalles, Oregon, with Salmonella bacteria in 1984 to rig local elections in his cult's favor. It's considered the first bioterrorist attack in the United States.

Rajneesh founded
the Rajneesh Foundation International, and is one of the most controversial of modern
gurus
. In 1981 he was deported from Oregon under a bevy of serious criminal charges associated with his
ashram
, or spiritual community. His recent death did little to stem his influence in Europe or America. John Ankerberg and John Weldon,
Encyclopedia of New Age Beliefs
Harvest House Publishers, Oregon, 1996.
Also called
OSHO
AND ACHARYA RAJNEESH, original name CHANDRA MOHAN JAIN, Indian spiritual leader who preached an eclectic doctrine of Eastern mysticism, individual devotion, and sexual freedom while amassing vast personal wealth.
(...) In 1981 Rajneesh's cult purchased a dilapidated ranch in Oregon, U.S., which became the site of Rajneeshpuram, a community of several thousand orange-robed disciples. Rajneesh was widely criticized by outsiders for his private security force and his ostentatious display of wealth. By 1985 many of his most trusted aides had abandoned the movement, which was under investigation for multiple felonies including arson, attempted murder, drug smuggling, and vote fraud in the nearby town of Antelope. In 1985 Rajneesh pleaded guilty to immigration fraud and was deported from the United States. He was refused entry by 21 countries before returning to Pune, where his ashram soon grew to 15,000 members. In later years he took the Buddhist title Osho and altered his teaching on unrestricted sexual activity because of his growing concern over AIDS.
[...more...]
Rajneesh, Bhagwan Shree
Encyclopedia Britannica
(...) the only known successful
use of biological weapons in the United States was by the
Bhagwan Shree Rajneesh
cult in 1984. The group contaminated salad bars in 10 restaurants in The Dalles, Ore., with Salmonella Typhimurium, causing several hundred people to become ill.
Hinduism is not
by nature a proselytizing religion, however, in part because of its inextricable roots in the social system and the land of India. In recent years, many new gurus, such as Bhagwan Shree Rajneesh and
Satya Sai Baba
, have been successful in making converts in Europe and the United States. The very success of these gurus, however, has produced material profits that many people regard as incompatible with the ascetic attitude appropriate to a Hindu spiritual leader; in some cases, the profits have led to notoriety and even legal prosecution.
Hinduism Outside India
Encyclopedia Britannica
Name Change
In 1988 thirty years after taking the title, ''Bhagwan,'' (which means ''the embodiment of God'') Rajneesh admitted the title and his claim to be God were a ''joke.'' ''I hate the word... I don't want to be called Bhagwan (God) again. Enough is enough. The joke is over,'' stated Rajneesh saying he was really the reincarnation of Buddha and claiming for himself the new title of ''Rajneesh Gautaman the Buddha,'' (Star Telegram, Dec. 29, 1988; Sec.1, p. 3). Later he took the title, ''Osho Rajneesh,'' a Buddhist term meaning ''on whom the heavens shower flowers.'' (Ibid, 1/20/90).
Old Bhagwan, new bottles
''A 'new' spiritual guru turns out to have a past that includes lavish spending, orgies and bacterial terrorism.''
, Salon.com, Oct. 20, 1999
Ever wonder what ever happened to the guy whose religious followers were linked to the only episode of domestic mass bioterrorism in America? Well, in the case of the late, notorious Bhagwan Shree Rajneesh, old renegade sex gurus never die. He just ''left his body'' somewhere in India in 1990 and later emerged as a thriving, modern-day publishing machine known as
Osho
.
Rajneesh's flock caught much of his meditative bon mots on tape, and now incessantly recycle these ponderings as spiritual wisdom under the author name of Osho.
The Story of a Truly Contaminated Election
Columbia Journalism Review, Jan/Feb 2000
The only proven incident of bioterrorism the United States has ever experienced, we learned, was a bizarre plot by the Rajneeshees, a religious cult, to steal a county election in Oregon in 1984. The Rajneeshees, followers of Bhagwan Shree Rajneesh, a self-proclaimed guru exiled from India, had moved into a ranch in rural Wasco County, taken political control of the small nearby town of Antelope, and changed its name to Rajneesh. Next, the cult sought to run the whole county by winning the local election in 1984.
The amazing story of the Wasco County election scandal was revealed to the conference's riveted participants by Leslie L. Zaitz, an investigative reporter for The Oregonian, and Dr. John Livengood, an epidemiologist at the Centers for Disease Control. To win the county election, the Rajneeshees planned to sicken a good portion of the population in the town of The Dalles, where most Wasco County voters live. Their weapon of choice to keep local residents from voting was salmonella bacteria. Cult members decided to test the use of salmonella and, if successful, to contaminate the entire water system of The Dalles on Election Day. First, the Rajneeshees poisoned two visiting Wasco County commissioners on a hot day by plying them with refreshing drinks of cold water laced with salmonella. Then, on a shopping trip to The Dalles, cult members sprinkled salmonella on produce in grocery stores "just for fun." According to reporter Zaitz, that experiment didn't get the results they wanted so the Rajneeshees proceeded to clandestinely sprinkle salmonella at the town's restaurant salad bars. Ten restaurants were hit and more than 700 people got sick.
http://www.apologeticsindex.org/b40.html
---
Bhagwan Shree Rajneesh Expelled
Oregonians Get Fed Up
Some of the homeless expose what is actually going on in the commune. Eventually Bhagwan Shree Rajneesh is arrested and expelled from the United States.
In September 1985, there was an outbreak of salmonella poisoning at The Dalles, Oregon, possibly the largest known outbreak of salmonella in the United States up to that time. The state health department and the Center for Disease Control traced the cause to salad bars in eight different restaurants in The Dalles. About 750 people got sick and Rajneesh was blamed. Sheela later admitted the poisonings were part of the community's political agenda, to show that they could do anything they wanted.
For the fall election, Secretary of State Norma Paulus instituted a screening process for prospective voters. After the election, about half of those who had come to Oregon left the state. The loyal followers just drove them out to the property line and dumped them off. This incident finally got the attention of the state legislature. The state had already sued Rajneesh for illegal incorporation of a city and considered charging two Rajneeshis who registered to vote in two cities. In addition, seven people hired a lawyer to sue Rajneesh on the basis that they were defrauded, coerced, and suffered physical abuse.
On June 30, 1985, The Oregonian launched a twenty-part investigative series on the group. They found an extensive wire tapping operation and two biological warfare laboratories. They also found evidence of an experiment to develop a live AIDs virus to be used against dissidents.
The end of Rajneeshpuram was just on the horizon. On September 15, Rajneesh called a press conference to announce that Sheela and a dozen others had left the country. He said she had big plans in the works. In actuality, she was looking for a new location for the commune. Others left Rajneeshpuram, claiming they were tired of the deception and manipulation.
To deflect culpability, Rajneesh publicly accused of Sheela of engineering the salmonella outbreak and of poisoning The Dalles water system. He also claimed she conspired to murder his doctor, his dentist, his girlfriend, and the county district attorney. He claimed Sheela mismanaged the colony's finances. Rajneesh tried to blame everything that went wrong on Sheela.
In the end, it was relatively easy to eliminate Rajneesh and his commune. The courts charged Rajneesh, Sheela, and six other executives with thirty-six criminal and civil violations. It only took violation of certain immigration laws to oust Rajneesh from the country. He was also convicted of illegal aiding of marriages between his members and U.S. citizens. He tried to escape on a chartered Lear jet, but federal customs agents stopped him and sent him back to Portland for trial. In return for a suspended ten-year sentence, Rajneesh agreed to pay $400,000 in fines and to leave the country within five days. He would not be allowed to return for at least five years and even then only with permission from the U.S. attorney general.
Sheela thought she was safe in her hideout in Germany, because immigration fraud is not an extraditable offense there. Unfortunately for her, attempted murder is. German police picked her up and put her on a plane to the United States. Sheela was sentenced to spend twenty years in federal prison for burglary, arson of the Wasco County planning office, racketeering, immigration fraud, wiretapping, and causing the salmonella outbreak.
After awhile all the excitement died down. State maps no longer showed the town of Rajneeshpuram. Antelope reverted to its original name. A used car dealer in Texas bought all 74 of the Rolls Royces at public auction. Connecticut General Life Insurance owned the mortgage on the Rajneesh property and bought it outright, minus what was owed for back taxes.
After leaving the U.S., Rajneesh returned to India. He tried to establish a new commune, but his reputation had preceded him. No one wanted an ashram in their backyard. He spent time in Nepal and Crete before returning to India. He died of a sudden heart attack on July 19, 1990, when he was 58 years old.
http://americanhistory.suite101.com/article.cfm/bhagwan_shree_rajneesh_expelled
Read more: "Bhagwan Shree Rajneesh Expelled: Oregonians Get Fed Up" -
http://americanhistory.suite101.com/article.cfm/bhagwan_shree_rajneesh_expelled#ixzz0A49rPdBb
In 1984, a bioterrorist attack using salmonella typhimurium bacteria in salad bars in restaurants in Oregon was traced to a cult led by Bhagwan Shree Rajneesh (known also as Osho).

It was the first known bioterrorist attack of the 20th century in the United States.

Here's an interesting the story of the rise and fall of the Rajneesh cult:

http://en.wikipedia.org/wiki/Rajneeshee_Cult