"The mission of Avatar in the world is to catalyze the integration of belief systems. When we perceive that the only difference between us is our beliefs and that beliefs can be created or discreated with ease, the right and wrong game will wind down, a co-create game will unfold, and world peace will ensue."
-- Harry Palmer










Report: Star's Edge International - Avatar Course - Harry Palmer
Star's Edge International (Avatar Course By Harry Palmer) "Personal development" courses licensed as an MLM scheme by a fake "psychologist" Orlando Florida
... Avatar Religious? How can anyone who has ACTUALY studied or attended come to that conclusion?
Star's Edge International - Avatar Course - Harry Palmer
237 N. Westmonte Drive
Altamonte Springs Florida 32714
U.S.A.
Phone: 407-788-3090
Web Address:
October 01, 2005
Last posting: Friday, October 31, 2008
Harry Palmer claims to be a psychologist who "discovered" Avatar in a flotation tank. In reality, he is a former Scientologist who runs a worldwide multi-level
marketing
scheme delivering the Avatar Course at $2,395 US. Then students are recruited to "upper level" courses costing up to $7,500.
Unlike Scientology, the Avatar movement doesn't claim religious status. Star's Edge is a for-profit personal development
enterprise
that supposedly "contributes to an enlightened planetary civilization." (In Scientology-speak, "a cleared planet.")
Avatar is basically a quasi-religious cult. Founder Harry Palmer studied Scientology and headed a "mission" in upstate New York for nearly 15 years before being excommunicated in 1986. Then he had an epiphany: "If Ron [Hubbard] could do it, I can do it too!" he exclaimed, says a former staff member. Months later, Palmer introduced the Avatar Course to disaffected Scientologists, promising "the entire Scientology bridge, the Buddha path and beyond." He claimed the techniques were "discovered" during sensory deprivation experiments in a flotation tank. To ensure "proper transmission" –and control -- he says the processes must be kept confidential and proprietary.
Those who have analyzed the course say it's an amalgam of New Age affirmations, Scientology drills, autohypnosis and Tibetan mediation techniques.
The key process involves the "discreation" of negative beliefs, visualized in trance as thought-forms or "bubbles." After one vanishes, the vacuum in mental space can be replaced with a better belief. After the course, most
students
experience a strong euphoria that may last for weeks. Once the high wears off, some say they have experienced anxiety, obsessive thoughts, or deep depression resembling the downside of bipolar disorder. If they ask teachers for advice, they'll probably be told to repeat the course and experience deeper levels -- or better yet, sign up for the next one.
The basic Avatar course is delivered by about 1,000 licensed "Masters" who pay a royalty of 15-25% of a prescribed course fee ($2,395 US). They in turn recruit their students to take the Master course, which costs $3,000 US. Once provisionally licensed, they pay "supervision fees" to intern under the original Master under a multilevel marketing arrangement. It is estimated that more than 85% of all Avatar Masters who took the trainer course are now inactive due to lack of students. Unlike Amway distributors, they didn't even end up with a stack of cleaning products in the garage.
Palmer now says he is an "educational psychologist," apparently to camouflage his history; but a public records reveal that he has never held a mental health credential. Despite the self-conferred title, some of his teachings express antipathy toward conventional health care. Avatar Masters have advised students with bipolar disorder to discontinue medication, sometimes with disastrous results.
At the higest level annual Wizard Course ($7,500), students learn that drugs and surgery are misguided attempts at healing, because all human ills -- including AIDS and cancer -- are really caused by "entities," possessive spirits that are exorcised using telepathic commands similar to Scientology's techniques to eliminate "body thetans." There's also outer space mythology: an intergalactic "blight bomb" caused by indoctrination experiments gone awry on the planet Karsak of Triton. Scientology's evil galactic overlord Xenu has not yet appeared.
Like Scientology's bizarre myths, these doctrines are kept secret until students are "prepared" -- or sufficiently indoctrinated to accept them. An even bigger secret may be that they're recycled from Scientology.
Eldon
San Francisco, California
U.S.A.
Eldon Braun and Harry Palmer:
Two of a Kind.
August 29, 2009



It is well documented that Harry Palmer and Avra Honey-Smith used to operate a Scientology facility in Elmira, New York.
It is well documented that he had commercial disputes with Scientology.
Since he could not prevail, Palmer developed his own "belief system"-Avatar.
Palmer appears to have a bachelor's degree and teaching credential. He seems ignorant of the full meaning of the word avatar. It is a Sanskrit word and means "descent" and is generally used to refer to incarnations (often, but not necessarily human) of Hindu gods.
A "follow on" to the "avatar course" is called "wizards" and this provides further confirmation of Palmer's ignorance. "Wizards" are not part of the Hindu belief system. Had Palmer wanted to continue the metaphor, the word "sadhu" might have been appropriate, but it is unlikely Palmer knew (or knows) it.
At one point, Palmer was ordered, by the state of Florida, to stop describing himself as a psychologist.
There is little doubt that Palmer was quite ignorant of this, as his "avatar" strongly resembles Scientology.
Enter Eldon Braun, another former Scientologist. Braun became a "supplier" of the Avatar course, which meant he had to pay a royalty.
At some point, Braun decided he did not want to pay the royalty. Braun developed his own variant of Avatar, called it the "Source Course" and sold it from France.
Palmer and his company, Star's Edge, took Braun to court. They won. Some money, but not the totality of the judgement, was collected from Braun's property. Braun subsequently fled to France.
Make no mistake. They are two of a kind. Both sought to profit from a questionable, if not outright false, belief system. Note that despite extensive claims to the contrary, not one iota of proof has even been provided demonstrating that either Scientology or Avatar actually does anything. Ask a practitioner of either "what can you do that I can't" and the answers will be amusing if nothing else.
Both Palmer and Braun sought to avoid payment to the "originators" of the courses they were selling. Both were sued and lost.
Palmer, in 2009, is still promoting Avatar. Braun is in France, and spends a great deal of time on the Internet arguing with people.


http://axisofquackery.wor...ry-palmer-two-of-a-kind/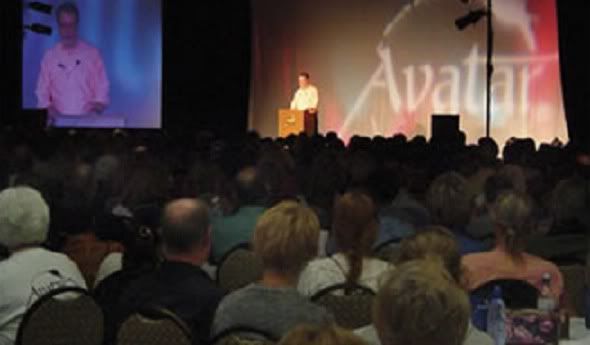 Investigate Harry Palmer's Avatar Cult ( a.k.a. Star's Edge International)
View Current Signatures
---
To: Florida Governor Jeb Bush

Governor Bush, the undersigned wish to alert you of a major international scam operation based in Florida. We urgently request that you order the appropriate regulatory and law enforcement agencies to investigate and prosecute those responsible.

Star's Edge International has its headquarters in the Orlando, Florida metropolitan area. For specific details, see the company's promotional website: www.avatarepc.com/. For critical details, see: www.avatarscam.com/.

This Delaware corporation is registered as a for-profit enterprise selling a series of courses under the trademark "Avatar." The courses are described as "personal development education." In reality, Star's Edge is a quasi-religious cult with roots in Scientology.

MISREPRESENTATION OF ORIGIN, CREDENTIALS AND PURPOSE
* The founder and sole owner of Star's Edge, Harry Palmer, operated a Church of Scientology Mission in Elmira, New York for 15 years. After he was excommunicated in 1986, he soon introduced the Avatar Course.
* Palmer claimed the course resulted from revelations gained during a prolonged series of "sensory deprivation" sessions in a flotation tank. He promoted the course to former Scientologists as providing "the entire span of the Scientology bridge, the Buddhic path and beyond."
* Over the past decade, Palmer has broadly advertised himself as an educational psychologist. This unlicensed imposture as a health care professional is a felony in Florida and throughout the US. In truth, Palmer never received a degree in psychology, and has never held any credential or license as a psychologist. His college degree was in secondary education, and he was certified in New York to teach high school English.
* The basic Avatar Course consists of mental processes that induce a state of hypnotic trance. They are similar to those taught in Scientology, Raja yoga, Neuro-Linguistic Programming and Buddhist meditation, among other practices. Yet the materials are represented as "confidential," and students are required to sign a nondisclosure agreement that defines them as unpublished trade secrets.
* Avatar Course trainers engage in mental manipulation by indoctrinating vulnerable students into the belief that the Avatar "network" is key to creating an Enlightened Planetary Civilization that holds the key to solving the woes of mankind.

UNETHICAL AND ILLEGAL BUSINESS PRACTICES
* Star's Edge and its licensees recruit students for a nine-day course to become "Masters" (individual trainers) licensed to deliver the basic Avatar Course. The conditions of full licensure are not fully disclosed beforehand.
* Successful graduates receive a "provisional license." They are required to pay internship fees for an indefinite period until they become "qualified" by Star's Edge. Meanwhile, they are pressured to take successive trainer courses.
* Qualification requirements are arbitrary and unpublished. The licensing contract allows Star's Edge unilaterally to revoke any license issued, without explanation or recourse.
* Trainers are pressured to fix fees for the basic Avatar Course at the full "suggested" amount. This practice violates fair trade and competition regulations in virtually every jurisdiction worldwide where the Avatar Course is offered by independent licensees.
* The licensing scheme is a pyramidal multilevel marketing operation with the primary objective of selling successive courses for the financial benefit of Star's Edge, rather than providing a viable business opportunity for licensees. As a result, the vast majority of those who completed the Master course have since failed and given up on teaching Avatar as a business.

MEDICAL AND PSYCHOLOGICAL MALPRACTICE
* Although Palmer falsely advertises himself as a psychologist, most of his works (including those registered as published) are claimed to be confidential, and have never been subjected to peer review.
* During the top-level Wizard course (which costs $7,500) Palmer reveals to students that they are infested with multiple possessive spirits or "entities." These are similar to the implanted "body thetans" of Scientology lore.
* Palmer has stated that these entities are the true cause of fatal illnesses, including AIDS and cancer. Their influence is said to be responsible for psychotic breaks that may occur during the basic Avatar Course.
* As a result, Avatar Masters who have taken the Wizard Course sometimes spread unfounded rumors of miracle cures. Many claim that taking the Avatar Course(s) will enable students to cure themselves of various medical conditions, including bipolar disorder. This amounts to a fringe religious doctrine akin to those expounded by Scientology, Christian Science, the Jehovah's Witnesses, Voodoo and other groups that practice faith healing.
* On the Wizard Course, students finally learn that Palmer is a sort of New Age messiah. This is the culmination of a progressive indoctrination into an occult belief system. It all began with the deceptive promise that the Avatar Courses only enabled students to examine and restructure their own personal and religious beliefs.

THEREFORE, the undersigned demand that Harry Palmer and Star's Edge be investigated by the Florida Board of Psychology, the Florida Department of Health, and the Florida Attorney General for the felonies of unlicensed activity of health professions (psychology and medicine), the operation of an illegal multilevel marketing operation, and violation of other applicable state and federal trade regulations.


Sincerely,

The Undersigned



http://www.petitiononline.com/avatar06/petition.html





Examining Avatar's Cult Characteristics




By Families Aware USA


Consumers of trainings will often inquire if the Avatar Course is a cult. Since this Multi Level Marketing training fullfills all the essential criteria for a cult the answer is a firm yes. Let's examine the basic criteria for cults in regards to Avatar.



---




Does Avatar appear on major cult lists and is it viewed as a cult by experts in the field.

Yes. Avatar is listed on many cult and cultic watch lists such as RickRoss.com, Scientology-Kills.org, and numerous others. It is a topic of discussion on many anti-cult message boards.



---




Does Avatar have critics?

Yes, many. A newsgroup alt.clearing.avatar is dedicated to exposing the cult.



---




Does Avatar, like most cults, stifle criticism?

Yes. Star's Edge has a history of harrassing individuals who criticise the organization and its practices. Avatar has attempted to silence message boards like Examine 2000, The Awareness Page Ozark, and the NAP page.

Avatar has a history of making legal threats. In recent months one of their masters made a death threat to an ex-master and an Avatar authorized message board "Avatar Overdrive" defamed and misatrributed a post to the same ex-master. In the past critics were labeled pedophiles and sex perverts. Avatar has tried to have articles removed from anti-cult websites and from Google to suppress information.



---




Does Avatar promote a typical cultic utopia?

Yes. The nebulous Enlightened Planetary Civilization where everyone's belief system will be alligned with Avatar's guru Harry Palmer.



---




Does Avatar share the typical cultic mistrust of science and critical reasoning?

The written doctrines of Harry Palmer, the cult's guru, actively condemn science and critical reasoning as do many of his disciples.



---




Does Avatar use cultic mind control methods?

Yes, undeniably. In their Master's Course it reveals the use of "WORMS" or ideas passed covertly to the student. There's also the abuse of the Avatar mental techniques which produce confusion and pain killer excess used to covertly breakdown disciples' critical reasoning, defenses, and identities.

These abused mental techniques are used to sell higher level courses and to "develop" intense disipleship. Many Wizards and masters show signs of inflexible thinking, cult denial, and fanatical zeal. Several writeups of the cults mind control tactics were exposed in Germany and by the Pacific Cult Intervention Network.



---




Has Avatar ever gotten in trouble with governments?

Yes. It was booted out of France where Avatar tried to infiltrate companies. It is currently in trouble in Germany where it is being watched closely by the Ministry of Psycho-Sects. In Australia it attempted to infiltrate schools with a Scientology style attention program.



---




Has Avatar ever drawn any media attention?

Yes. In New York State, in The Netherlands, Germany, France, and several other countries it has received negative reviews from newspapers, magazines, and television. It's generally viewed in the same light as its father org Scientology.



---




Does Avatar have secret and confidential techniques and doctrines.

Yes. Its mental techniques --which strongly resemble existing mental processes and are uncited-- are confidential and were until recent years well guarded secrets. Now they can be found posted in newsgroups and on message boards. More recently the much regarded Source Course analog appeared. Visit www.Sourcecourse.com.

In the last few years Avatar was linked with ufos and galactic brotherhoods. An article written by the cult's leader Harry Palmer was exposed on the internet and the Star's Edge legal team attempted to have it suppressed. Several connected with Avatar revealed that space entity removal and ufos exist in the cult's hidden upper levels.



---




Is Avatar a religion?

Not officially even though it began that way. The Avatar doctrines have a strong religous flavor.



---




How was Avatar developed?

According to Harry Palmer it came to him in an epiphany while in a float tank. Skin specialisits dismiss his story acknowledging 8 weeks 8 hours a day in epsom salts would burn off most of his epidermis. The float tank story sounds implausible to all but the most diehard believers. Further evidence shows that the Avatar doctrines appeared in a speech prior to the float tank saga.



---




What is the moral character of the utopian Harry Palmer?

Called into question by a number of Elmira residents who claim the Avatar guru bilked them for substantial sums of money. The complete story may be found in "the Wiz of Orlando" and at the newsgroup: Alt.Clearing.Avatar



---




Was Harry Palmer ever associated with another cult?

Yes. He spent 15 years in Scientology but passes it off a phase. He was a mission holder (a high rank) for many years in Scientolgy. Scientology also had a suit against him. Read about it at Operation Clambake. Palmer once claimed Avatar was the end of Scientology's "Bridge to Total Freedom".



---




Do Avatar masters and wizards ever promise medical and psychological cures?

Yes, a sizable number were caught in a sting operation by a former Dutch Avatar Master who has since received a death threat.



---




Does Avatar associate with other like minded groups or does it stay aloof like most cultic organziations?

Avatar has no connections to other groups and remains in a world of its own where Harry Palmer is at the helm. Many upper level Avatars associate only with Avatars.



---




Does Avatar use a cult jargon?

Yes. Some of it is borrowed from the father org Scientology. The members use a cliche ridden Avatar-speak which separates them from others.



---




Does Avatar have a system of organizational checks and balances?

None. A senior Avatar Council is mentioned, but insiders say it doesn't exist. No names are mentioned to date.



---




Does Avatar have a research facility?

None. The course hasn't changed much since the Scientology jargon was partly removed from the first version of the course.



---




What does the world spiritual community think of Avatar?

The few who've noticed its existance regard it as a money making shuck. Harry Palmer scored low on Sarlo's guru rating. Most LGAT watchers regard Avatar as an MLM cult which has seen better days. A training on its way out.



---




Does Avatar promote itself as being able to foster special abilities or enlightenment.

Yes. No one's noticed any enlightened beings coming from Avatar--just persons with self-inflation and spiritual superiority. Some believe they're godlike after the course's high. Avatar makes claims about being able to contact mass consciousness and create psi abilities. No one has ever demonstrated any.