The cult of the
female leader



by



Sept. 21, 2010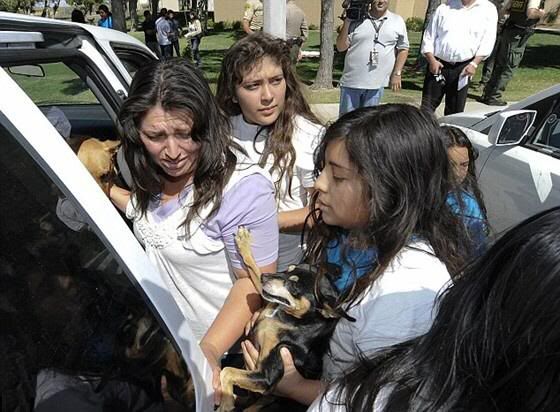 Reyna
Marisol
Chicas
and other cult members are led away by police.
Reyna Chicas has been undergoing a mental evaluation for the past 72 hours since she surfaced in a California park with the 12 other missing women and children believed to be preparing for a mass suicide. Not much is known about 32-year-old Chicas besides a few facts consistent with those of a religious cult. She, along with a handful of others, broke off from a local church. Her belief in an end-of-mankind scenario has reportedly been the focus of group gatherings. And she's been accused of brainwashing other women by the two husbands who first reported their wives and children missing on Saturday.
But the other markers of traditional cult leaders—sexual dominance, violence, and polygamy—don't appear to define Chicas' influence. One reason may be that the term "cult leader" is only capable of describing male leadership. In the workplace or community, studies have shown that "female leaders are more nurturing, empathic, and responsive than male leaders," according to research in Psychology Today. The theory could be applied to female leaders of spiritual sects.
"Generally groups called 'cults' led by women tend to be less violent and lethal than those controlled by men," Rick Ross, a leading expert and watchdog of international fringe groups, wrote in an email yesterday. Another commonality is a stronghold over small, local groups "of anywhere from five to 50 members," says Dr. Margaret Singer, in an article on a female-led spiritual group in the Metroactive alternative press.
Ross is careful not to label female-led groups as cults, instead pointing to a list of about 17 groups "run by women leaders" including "Church Universal Triumphant, Word of Faith Fellowship, Pana Wave, Pure Bride Ministries, Church of Immortal Consciousness, The Family, People of Eden, The Word/Sharon Gans, Magnificat Meal Movement," among others.
Many of those mentioned have denied claims of being labeled a "cult" or "cult-like" and as more groups break off from larger religious ideology to form their own movements, it's hard to delineate between an organization exerting dangerous mind control and one simply focused on fringe beliefs.
Even so, female leaders of powerful spiritual groups appeal to followers in different ways than their male counterparts. Typically, their followers are older women and children looking to avoid sexual encounters. Before they went missing, Chicas' group of women and children were spotted praying in protest of premarital sex at a high school.
"The female guru attracts women who want a female role model. These are women who don't want to be manipulated by another man," Rachel Andres, director of the Commission of Cults and Missionaries in 1989, told Newsweek when more female-run sects started to surface in the late '80s.
Instead of a promise of sexual affection, it's maternal nurturing followers crave. "A lot of cults are pitching to older women with the offer of more hugs than these women are getting from their grandchildren," Cynthia Kisser, of Cult Awareness Network, cited in the same Newsweek article. As a result, females in leadership roles attract older women in search of a community or a maternal connection they may be missing. Such may be the case for the wildly popular Indian guru Amma, who currently travels worldwide offering believers her healing hugs. She also sells dolls in her likeness to the minions she calls her "children."
Another form of nurturing female gurus offer is through meals, or lack there of. Whether it's a diet guru or a pastor, imposing guidelines on eating removes individual thought process, enticing community dependence. Pre-prescribed meals are present in male-led communes and cults like Heaven's Gate and The People's Temple, as well. But the over-arching dietary prescriptions, as guiding forces behind a belief system, is unique to female-led groups.
Ching Hai, a Buddhist-rooted Vietnamese spiritual leader with over 100,000 followers, rewards her initiates with candy. A spiritual book for her followers shows a photo of her practice with the caption: "Master offers her love and blessing by sharing candies with the gathered initiates." But once her followers are integrating her practice into their lifestyle, she prescribes a strict vegetarian diet and meditation. It's a positive reinforcement approach that works as well on her many youthful followers, as it does on their parents.
Gwen Shamblin, founder of Weigh Down Ministries, runs a religious organization with a focus on weight loss. She has denied accusations of fostering cult-like community, and many followers have called the program helpful. "It's definitely all about praying and focusing on God and not on the food," one proponent, Andy Sorrells told an Atlanta based news station in 2008. But another, former member claimed to develop an eating disorder as a result of the program, fearing she wouldn't get to heaven if she gained weight, according to the ABC affiliate.
An Aussie group, the Breatharians, claim to sustain themselves on nothing but light and air. Started by a woman named Jasmuheen, nee Ellen Greve, she cultivated her following by convincing members she lived on less than 300 calories a day for years. Tea and juice was the basis of her perma-fast and its subsequent enlightenment. For followers, she offers a 21 day fasting program many would consider starvation. Considered one of the more dangerous belief systems, the program has been linked to three deaths since its inception.
Another Australian sect with a wide-reaching audience, the Magnificat Meal Movement, is a controversial religious group founded by Deborah Geileskey, a woman who claimed to subsist on a diet of water and wafers for years at a time in the service of Jesus. Even on the official MMMI website, the convoluted language of beliefs is built around food-free meals: "Let the Light lead you past the darkness of the past boxed and labeled mindset and into the unifying light-meal of the True indwelling Presence of the Divine Meal (family of universal lifestyle) of peace and love everlasting." And her spiritual nourishment comes in all forms. In 2001, the Sunday Telegraph reported Geileskey was using her influence to hawk the diet pill Herbalife through a scheme within her community.
In 1999, the Magnificat Meal Movement, like Chicas' group, sparked fears of a mass suicide, after Geileskey's ex-husband told press about a fiery vision she had. Like Jasmuheen, Geilesky's also been linked to a negligent death, after an ill believer solicited her healing powers and as a result missed out on medical treatment. In this way, the nurture-based indoctrination turns deeply harmful.
This year, a Baltimore-based convicted female cult leader, Queen Antoinette, was sent to jail for second degree murder after she convinced a follower not to feed her one year-old son. Starving him to death was his punishment for neglecting to say "Amen" after a prayer. "Antoinette ran her household with a strict set of rules that allowed children to fast and use marijuana, but prevented anyone from wearing colors other than tan, blue or white," according to court testimony reported in the Baltimore Sun. "She justified her decisions through various Scripture readings."
Child abuse exists in both male and female-led extremist groups. In 2008, Wayne Bent, leader of Lord Our Righteousness Church, was arrested for sex abuse, after instructing underage female members to lie naked with him on Jesus' request. Like Queen Antoinette's followers, a few indoctrinated parents didn't question the command. The same blind faith was found in original members of Children of God, who subjected their kids to leader David Berg's physical violence and sexual abuse.
Dependency, self-assigned morality, and a stringent set of rules, are still guideposts of mind control, but the forms they take are divided along gender lines. And as it stands, we know far more about male-domination methods than we do about about female control tactics. The reason could be that statistically, there's just more male fringe leaders. Another theory: female leaders--with their subtler, abstinence-based methods of influence--have been flying under the radar.
Certainly this weekend's hunt for Chicas and her followers was evidence we can't base the actions of a female leader on past male examples. Never before has a potential mass suicide ended with members emerging in a park holding puppy dogs. Then again, let's hope that was the end.




http://shine.yahoo.com/ch...e-female-leader-2392638/