Russia: Law Enforcement Organs
Accused Of Widespread Torture

March 29, 2007
March 29, 2007 (RFE/RL) -- A study by Russian sociologists and human rights activists shows that ill-treatment and torture are endemic in the country's detention facilities.

According to a new study published on March 28 by the Russian Academy of Sciences and the Committee Against Torture, a Russian human rights organization, every 25th person in Russia is tortured, beaten, or harassed by law enforcement officials each year.

Shocking Findings

The report is based on opinion polls carried out in five Russian regions over the past three years. The report does not cover Chechnya, where Moscow's military campaign against separatists has resulted in what rights groups describe as massive torture and abuse against civilians.

Yakov Gilinsky, a sociology professor with the Russian Academy of Sciences who supervised the study, disclosed the findings at a news conference in Moscow.

"So, has the adult population been subjected to torture within one year? The results -- in St. Petersburg: 3.4 percent, in the Pskov region: 4.7 percent, in Nizhny Novgorod: 3.4 percent, in Komi: 4.6 percent, in Chita: 4.5 percent," Gilinsky said. "The average result for all the regions is that 4.1 percent of people have personally been subjected to torture, or illegal physical or psychological violence."
"The average result for all the regions is that 4.1 percent of people have personally been subjected to torture, or illegal physical or psychological violence."
The respondents were also asked whether someone in their circle of friends and relatives had been beaten within the same year by law enforcement officials in an effort to extract testimonies or to intimidate them.

Between 9.3 and 17.7 percent of respondents said yes.

Even for the Committee Against Torture, which has been fighting police abuse for the best of the past decade, these figures came as a shock.

"Our organization has been working on this for seven years," said Maksim Prytkov, a representative of the Committee Against Torture. "I've been working on this issue for 10 years. Personally, I was shocked by these figures, because they show that almost every Russian citizen either himself or through his close circle reliably knows that our police systematically use torture. If citizens know that's the way police work, the proper level of trust toward Interior Ministry organs will never be achieved."

Abuse Gone Unpunished

Russia's flawed justice system and fear of reprisal mean only a fraction of police abuses are punished.

Asked by RFE/RL to respond to the report, the head of the Russian Interior Ministry's press service declined to comment.

The study coincides with another report on torture released today by the New York-based rights organization Human Rights Watch.

The report accuses Russian authorities of torturing three Russian citizens and harassing four others in 2004, after U.S. authorities returned them to their home country.

U.S. forces detained the seven men in Afghanistan in 2002 and held them for about two years at the U.S. Guantanamo Bay detention center in Cuba.

The report criticized the practice of repatriating suspects to countries where they face torture, such as Russia, on the basis of "diplomatic assurances" that the returnees would not be abused.

"The United States returned the seven former Guantanamo detainees to Russia based on Russia's promises that they would be treated humanely here in Russia," said Allison Gill, the director of Human Rights Watch's Moscow office. "What we found is that that did not happen. We are calling for an immediate stop to the use of diplomatic assurances all around the world by any country that uses them in order to uphold the firm standards in the [UN] Convention Against Torture."


Upon their return to Russia, the men were detained for three months before being released. They were not beaten in custody. The abuse, says Human Rights Watch, came later.


Rasul Kudayev
, a resident of Kabardino-Balkaria in southern Russia, was detained after an armed uprising in the provincial capital in October 2005. He remains in custody although he has yet to be prosecuted for his alleged role in the unrest.

Human Rights Watch says photographs, medical records, court documents, and the testimony of lawyers and family members show that Kudayev was repeatedly beaten in custody in an effort to extract confession from him.

Two other former
Guantanamo detainees
, Ravil Gumarov and Timur Ishmuratov -- both residents of the Russian Republic of Tatarstan -- were detained in April 2005 in connection with an explosion at a local gas pipeline.

Human Rights Watch's report says they were beaten in custody until they confessed. According to the report, Gumarov was deprived of sleep for one week and shackled to a small cage with his hands over his head.

Standard Practice

But one does not have to be a terrorism suspect to face torture in Russia.

Gill says police torture continues to remain "standard practice."

"Police abuse and torture are widespread still in Russia. So unfortunately it's standard practice," Gill said. "In the past 10 years, the situation has not changed nearly enough. Many of the findings of the [torture] report that we did in 1997 still hold true. We still get regular complaints of police abuse and torture. There are many reforms desperately needed to be taken in law enforcement."

http://www.rferl.org/content/article/1075583.html
Medvedev Takes Control of Fight
Against Police Abuse (Update2)
February 18, 2010.
By Lucian Kim
Feb. 18 (Bloomberg) -- President Dmitry Medvedev took personal control of Russia's biggest overhaul of law enforcement in 50 years, as outrage grows over police abuse and corruption.
"Violators of discipline must be dealt with in a tough way," Medvedev said at a televised meeting with the country's top law enforcement officials in Moscow today. "Whoever doesn't follow lawful orders is a criminal."
Russian police are coming under increasing pressure amid reports of citizens falling victim to violent or drunk officers. Two-thirds of Russians don't trust law-enforcement agencies, while 77 percent feel defenseless from police abuse, according to a poll published by the Levada Center this week.
Medvedev ordered the government to prepare amendments to existing legislation stripping the police of functions unrelated to fighting crime, raising pay for officers and cutting Interior Ministry staff. He also fired three deputy interior ministers and a dozen regional chiefs, according to statements from the Kremlin press service.
Opposition leader Eduard Limonov, who is routinely detained by Moscow police for participating in illegal rallies, said he doubted the changes would lead to a systemic improvement, Interfax reported. The independence of the courts must be guaranteed first, he was quoted by the newswire as saying.
Russian media publish reports on police abuse on a daily basis. Prosecutors yesterday said a drunk Moscow police officer ran over a woman walking on the sidewalk; in January, a journalist died after a policeman beat him in a drunk tank in the Siberian city of Tomsk.
Medvedev said policemen should face harsher punishments than others get for the same crime. Drunk tanks and vehicle inspections should no longer be the responsibility of the police, he said.
The Interior Ministry, with 1.4 million employees, is comparable in size to Russia's armed forces, Prime Minister Vladimir Putin said in December.
Interior Minister Rashid Nurgaliyev must present Medvedev with a reform plan within a month, state broadcaster Rossiya 24 reported. The police reform is the biggest since communist leader Nikita Khrushchev abolished the Soviet Interior Ministry in 1960, the news channel said.

http://www.businessweek.c...gainst-police-abuse.html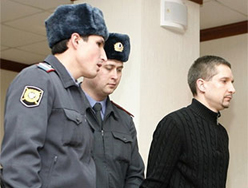 The Moscow City Court has sentenced former police officer Denis Yevsyukov to life in prison for murder, Interfax reports.
Judge Dmitri Fomin handed down the conviction on Friday for two counts of murder and 22 counts of attempted murder.
The former police major sparked a national media blitz last April when he walked into a Moscow supermarket around midnight and began randomly shooting people. Three people were killed and many others were injured.
CCTV footage shows the officer, clearly drunk, struggling with patrons and supermarket staff while trying to pull out his weapon. Yevsyukov admitted in court to the murder of one cashier after being shown the incident on tape, but said that he has no memory of what happened that night.
During closing arguments on Tuesday, Yevsyukov stated that "I'm not asking for a light sentence, I'm asking for fairness, if I may ask for it."
Defense lawyer Tatyana Bushuyeva, who had argued that Yevsyukov was not in a normal state of mind and asked for the court to consider the incident "an act of hooliganism," said that they plan to contest the ruling.
Moscow City Police Press Secretary Pyotr Biryukov admitted to RIA Novosti that they had expected a life sentence, saying it was "a deserving punishment."
Survivors injured in the shooting, who were earlier denied compensation by the police because Yevsyukov was off-duty at the time of the incident, are already renewing their appeals.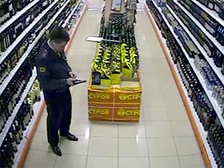 In addition to life in punishment for the former officer, Judge Fomin issued a separate statement to Russian Internal Minister Rashid Nurgaliyev, declaring that the career politics of his agency are "unsatisfactory."
Investigators had determined that Yevsyukov was under stress due to pressure at work prior to the incident.
Tackling Russia's notoriously corrupt and violent police force has been a stated goal this year for Russian President Dmitri Medvedev. Yesterday, the president fired two deputy interior ministers and more than a dozen top law enforcement officers, and issued his second order in less than a month for drastic cuts in law enforcement personnel.
While violence and corruption on the part of the police is nothing new for most Russians, the media attention brought on by Yevsyukov's killing spree has resulted in increased coverage and criticism of the disturbing number of incidents of brutal police criminality. As reports followed one after another of officers killing pedestrians while driving drunk, fatal beatings, and an increase in police suicides, top governmental officials began calling for the Internal Ministry to be dissolved altogether.
In a recent example earlier this month, an elderly composer was severely beaten and robbed in the city of Yekaterinburg by a group of police who allegedly swore at the victim, telling him "Nurgaliyev isn't going to help you." Local authorities only accepted the composer's appeal about the incident after he filed it a second time, and no criminal charges were initiated until after the story broke in the Russian media last Tuesday.

http://www.theotherrussia.org/2010/02/19/russian-cop-sentenced-to-life-in-prison-for-murder/