Ramtha's School of Enlightenment
Ramtha's School of Enlightenment or RSE, is a school based near the rural town of Yelm, Washington, in the United States, that is popularly seen as a cult.[1] It was founded in 1988 by J. Z. Knight.
History
J. Z. Knight in 1977 began claiming that the entity named Ramtha, a 35,000-year old disembodied entity from an ancient civilization, was channeling through her. Since then, Knight claims, through her, Ramtha has been teaching the truth about the reality of the world, and that he chose her to "help [her] over the ditch".[2]
Since then, JZ Knight/Ramtha has been having private sessions with students of Ramtha's teachings, which were called "dialogues". The dialogues were held in 24 cities between 1979 and 1988 (including Seattle, Honolulu, New York and Denver), when she decided to found Ramtha's School of Enlightenment, on a land which was previously a ranch. By 1995 she had expanded her tours to include other countries in the world, such as Australia, Italy, Japan and South Africa.[3] It is now a place where students can travel to and attend the more systematically organized lessons, usually staying there over the course of several days, called retreats. The campus is located on a property owned by J.Z. Knight, under the umbrella of JZK, Inc. (a corporation by J.Z. Knight).[4] The School's 80-acre (320,000 m2) fenced compounds are open only to staff members and students and are not open to the public.[4]
About 6,000 students currently attend the school's premises yearly, mainly at classes in Yelm but also at various locations across the globe.[4] It is estimated that the somewhere between 1,000-3,000 people who attend live within a fifty mile radius of the school in the Yelm area, and nearly a third of them live in South Sound. RSE is recognised as a US corporation, and pays taxes as such. The organization is run as a business with more than fifty employees.[5] The school offers classes (called "events") which can last for just an evening, a weekend, or longer. Specialized events are run twice yearly, which are required for students who wish to stay "current" in the school, which in turn allows them to be able to attend all other classes. These required retreats are now held worldwide. In addition to organizing these events, the school sells clothing, books, tapes, DVDs, and other merchandise.[4]
Knight has been making immense profits from the School's activities, and from sale of books, tapes, CDs and DVDs, and in 2007 Knight had reportedly made a profit of $2.6 million in sales alone.[4]
In 2004, various Ramtha school leaders (including James Flick, her current husband) joined community groups to strongly oppose a proposed 75,000-seat NASCAR racetrack in Yelm. However, the proposal was withdrawn.[4]
In 2008, lessons were given to the public in more than 20 countries, including the Czech Republic, Romania and Chile for the first time.[4]
See below for related projects.
Teachings
Knight claims that through the School, the students have the opportunity to utilize their inner wisdom, focus their brains, and create their own reality.[4]
The school's curriculum is based on the alleged channelings by J. Z. Knight of the entity Ramtha.[6] Although the School has been criticised for being a cult (see below), JZ Knight and her followers deny such claims, and say that the School is neither a religion nor a cult.[2][7][8]
Ramtha's School of Enlightenment teachings have been described as part of the New Age movement. Controversial religious scholar J. Gordon Melton wrote a book countering this argument, called Finding Enlightenment: Ramtha's School of Ancient Wisdom.
Activities undertaken in the School's compounds during the lessons include wine-drinking (earlier in the School's history),[9] tobacco and pipe smoking, and breathing, among others. Through these techniques, the students believe they are on their way to becoming as "enlightened" as other shamans, or even "real magicians" who can alter the world and reality at will. Allegedly, it is being taught that alcohol and nicotine can help to achieve these means.[10] The students believe that they can obtain such immense powers that will allow them to raise the dead, freeze a rocket in mid-air, make gold appear out of thin air, or even predict the future. Psychic progress in the sector is said to eventually lead to "ascension" of the body into the "Void", what Knight calls the ultimate spiritual state.[10]
Other skills allegedly obtained by attending the lessons include psychokinesis, telepathy, clairvoyance, and other ESP skills,[11] which have been criticised by various skeptics and scientists around the world (see each article for more information).
The dialogues, and a lot of transcripts from Ramtha's and JZ Knight's talks have been compiled and published, over the course of many years. Videotapes of various dialogue sessions have also been released. While some of the major themes around the School's teachings are covered in these publications, a more in-depth and systematic presentation of his philosophies and teachings are only accessible by students of the school.
Controversy and Criticism
Ramtha's School of Enlightenment has been called a cult by various people, including her ex-husband Jeff Knight,[12] former personal bodyguard Glenn Cunningham,[9] former students of the school (such as David McCarthy[4] or Joe Szimhart[10]), and skeptic Michael Shermer.[13] Melton's book, which denies the school's status as a cult,[14] has been criticized for siding with the School and not providing a neutral description of what is going on within the School, and has been called a 'cult apologist' by various opposers of cults. His position was further criticized when he took the stand as a witness in the case Knight v. Knight (1992–1995), against Jeff Knight (JZ Knight's husband at the time - see J.Z. Knight court cases), by further supporting that the School is not a cult.[10]
Former students of the School have accused the RSE of practicing brain-washing and mind-control, as well as using intimidation and fear techniques to keep students in the School. David McCarthy, a student of the RSE between 1989 and 1996, calls Knight a "spiritual predator", and he mentions various parts of the teachings which had an intimidative character, such as the prophecy that unless students remain faithful to Ramtha, they will become prey of the "lizard people", and that the ancient figure of Jehovah would return to earth accompanied by lizard people, in a spaceship.[4] The former students (including David McCarthy and Joe Szimhart) have formed what they call Life After Ramtha's School of Enlightenment (also known as LARSE), a community group to provide support for people who have quit the school and find themselves lost.[15]
A further controversial issue regarding Ramtha's teachings involve the so-called "endtimes", which were prophesized catastrophes. Instructions from Ramtha were given to the students, telling them to leave their friends behind if they resisted or disagreed with them. He taught that "your government is an illusion", which encouraged some students to engage in tax evasion, and he also directed students to build and prepare individual underground shelters to protect themselves against an imminent invasion of Chinese Communist soldiers from Mexico, planning to invade Seattle and the surrounding areas.[10] Other prophesies include a holocaust would take place in 1988, the USA's involvement in a major war in 1985, a discovery in Turkey would reveal a big hidden pyramid which would reach to the center of the Earth, or that cities would be obliterated by diseases.[16]
Various incidents within the School's compounds have been characterized as controversial. Glenn Cunningham, in an interview with David McCarthy, describes how one night, Knight suggested that all students should stay there for the night, because she said it would be 'good for the energy'. That was before the Great Arena (formerly used as horse stables) had been floored, and as a result there would be a lot of dust in the air. Cunningham says that there was a very old woman among the students, who begged him that she doesn't want to do this and she wants to go home, but Ramtha said that she can of course stay, under the protection of Ramtha and her bodyguard. Leaving the arena the following day, the old woman died of pneumonia (due to the dust in the air and humidity).[9]
Another incident which is mentioned by both Cunningham and Joe Szimhart is the practice of running blindfolded towards all directions around the "tank" (an open fenced field, which was a former ranch). Szimhart mentions in particular an occasion around the year 1990, in which about 1,000 blindfolded students were directed to split up and run across the field, with their hands in the Consciousness & Energy position in front of them, and the exercise was meant to help the students overcome their fears. Szimhart recalls how many people crashed into each other, and that there were some injuries. A customer of his ended up with a deeply bruised shoulder and a big lump on his forehead. Aside from the minor injuries, a few people had to be treated at the hospital.[9][10]
Related projects
In 2004, three members of the RSE produced a controversial film that combined documentary interviews and a fictional narrative to posit a connection between science and spirituality, called What the Bleep Do We Know!?. The film has been criticized heavily by the scientific community[17][18][19][20] due to its mis-representation of quantum physics, and an unnecessary connection to consciousness.[18] The American Chemical Society's review criticizes the film as a "pseudoscientific docudrama", saying "Among the more outlandish assertions are that people can travel backward in time, and that matter is actually thought."[20]




http://en.wikipedia.org/wiki/Ramtha's_School_of_Enlightenment



---
J. Z. Knight
---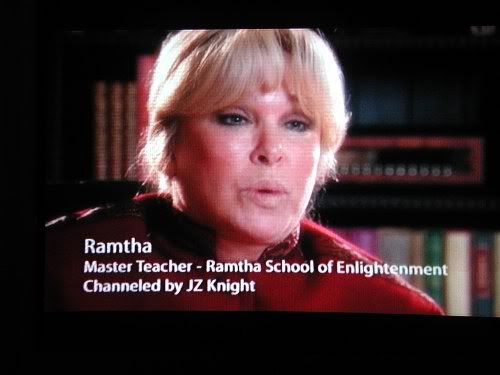 Judy Zebra Knight (born
Judith Darlene Hampton
on March 16, 1946, in
Roswell, New Mexico
), usually known as
JZ Knight
, is an American mystic teacher and author. She is also the reputed
channel
of a spiritual entity named Ramtha.
Knight has appeared on US TV shows, such as Larry King,[1] MSNBC[2] and The Merv Griffin Show, offering spiritual insight and inspiration. She is consults with figures from the entertainment and political world such as Linda Evans and Shirley MacLaine.
Knight claims to bridge ancient wisdom and the power of consciousness together with the latest discoveries in science. Some of the ideas are similar to those of Shirley MacLaine,[3] which have in turn been criticized for being "kindergarten metaphysics" by mathematician and skeptic Martin Gardner.[4] Ramtha's teachings have further been criticised by scientists and skeptics around the world (see Controversy and Criticism below).
Knight lives in a 12,800-square-foot French chateau-style home and, next door, teaches courses and runs Ramtha's School of Enlightenment.[5]
Knight has been married six times (five of which ended with divorce) and is the mother of two children from her first marriage (Brandy and Christopher),[6] which was ended in divorce due to her husband's alleged alcoholism and infidelity.[7][8]
Career
Knight grew up in poverty and was unable to go to college. After graduating from high school, she dropped out of business school. She later worked at the cable television industry, and due to her work moved to Tacoma, Washington, where a psychic told her the 'Enlightened One' would appear to her in the future.[7] Ramtha allegedly appeared to her for the first time in 1977, in her and her husband's trailer.[5][7]
Knight appeared on The Merv Griffin Show in 1985 and later wrote the autobiographical A State of Mind in 1987. Time called her "probably the most celebrated of all current channelers".[9] Ramtha's School of Enlightenment website says that since 1988, through the JZ Knight Humanities Foundation, Knight has donated $1,181,068 to 200 graduating high-school seniors "that they may pursue their educational goals". In 1996, a total of $280,000 was given to 39 graduating seniors.
Knight has a store in Yelm, Washington, along with an online store which sells products not connected with Ramtha's teaching. The store sells kitchen utensils, women's apparel, cosmetic products and pet supplies, among other products.[10] She is currently the president of JZK, Inc and Ramtha's School of Enlightenment, located in the foothills of Mt. Rainier in Washington, and the name of Ramtha is copyrighted under JZ Knight. She also won a court case which affirmed that she is the sole legal channeler of the entity Ramtha[11] (see Court Cases below). There have been over 120 books and 40 DVDs released by RSE, JZK Inc. or independently in the past twenty-five years. She also appeared in the 2004 movie What the Bleep Do We Know!?, produced by members of the Ramtha School,[12][13] which has been heavily criticised by the scientific community.
After an absence from public view for several years, she returned to public speaking on radio and in magazines and workshops.
Ramtha
Ramtha (the name is claimed to be derived from Ram and to mean "the God" in Ramtha's language) is an entity whom Knight claims to channel. According to Ramtha, he was a Lemurian warrior who fought the Atlanteans over 35,000 years ago.[14] Ramtha speaks of leading an army over 2.5 million strong (more than twice the estimated world population at about 30,000 BC) for 63 years, and conquering three fourths of the known world (which was going through cataclysmic geological changes). According to Ramtha, he led the army for ten years until he was betrayed and almost killed.[15]
Ramtha says he spent the next seven years in isolation recovering and observing nature, the seasons, his army making homes and families, and many other things. He later mastered many skills, including foresight and out-of-body experiences, until he led his army to the Indus River while in his late fifties. Ramtha taught his soldiers everything he knew for 120 days, he bid them farewell, rose into the air and in a bright flash of light he ascended before them. He made a promise to his army that he would come back to teach them everything he had learned. JZ Knight says that in 1977 Ramtha appeared before her and told her that he had come to help her over the ditch. JZ Knight became his first student of what he calls the great work.[14]
Teachings
Ramtha is the central figure (the "master teacher") of Ramtha's School of Enlightenment, started by Knight in 1987 in Yelm, Washington. Classes (or "dialogues") had been held around the world for the previous ten years. There are currently over 6,000 students of Ramtha's teachings and many more have been to retreats in the past.[6]
A central theme of Ramtha's teachings involves the internalization of divinity (God is in Us, You are God, Behold God). Ramtha is described as having brought his knowledge to many ancient civilizations in the world such as the Ancient Egyptians. The website also suggests that traces of the lineage of the original teachings and philosophies he taught 35,000 years ago have appeared throughout history in the schools of philosophers like Socrates, religions like Hinduism and Judaism, and the works of great minds such as Leonardo da Vinci and Michelangelo.[16]
The four cornerstones of Ramtha's philosophy are:[16]
The statement 'You are god'
The directive to make known the unknown
The concept that consciousness and energy create the nature of reality
The challenge to conquer yourself
All of the above are similar to the list of common messages stated by claimed channelled entities written by Russell Chandler[17]:
The basic messages of the channeled entities exhibit a striking commonality:


Death is unreal.
All is One in the synergy of Deity.
We are Divine Beings but have chosen to exist as physical humans.
In this life there are no victims, only opportunities.
We can control reality through the powers of Universal Mind.
(also see Mediumship)
Ramtha's teachings appear to be a mixture of Jungian philosophy, Western occult traditions and contemporary positive-thinking attitudes (such as New Age beliefs),[18] but have yet to stand against elementary skepticism or scrutiny,[19] and predictions made by the disembodied entity have either failed to come true (for example, predicting that a holocaust would take place in 1985, or that the USA would be involved in a major war in 1985) or the predicted scenarios are too wide to evaluate and/or have too large an error margin to be considered, which is usually the case with channelers.[18]
When Knight says she is channeling Ramtha, she/he speaks mostly in English, in what sounds like an accent from the Indian Raj,[19][20] and sometimes in a simplistic way. Ramtha has expressed confusion about modern items (or even the ability to read English),[21] although he seems to have clear understanding of complex issues of modern physics, such as the quantum field or neurology, which appear frequently in his speeches.[22] During the channeling of Ramtha JZ Knight behaves a bit differently and speaks in a deeper and stern voice.
In his teachings, Ramtha has made several controversial statements, such as that Christianity is a "backward" religion, that Jesus' parables can be explained by means of photon waves and probability,[23] that "murder isn't really wrong or evil" (if one believes in reincarnation),[17] or (during the court case JZ Knight v Jeff Knight) Jeff Knight stated that Ramtha had allegedly declared that HIV is Nature's way of 'getting rid of' homosexuality.[23]
Controversy and criticism
Most books regarding Ramtha and RSE come from JZK Publishing, one of the several companies started by JZ Knight. Other books somewhat sympathetic to Ramtha, such as "Finding Enlightenment: Ramtha's School of Ancient Wisdom" by Gordon Melton, have ties to RSE in other ways. The author of Finding Enlightenment, testified for J.Z. Knight in Knight vs. Knight (1992–1995) against her former husband Jeffery Knight (see below).
Skeptics point to Ramtha's story as proof that he does not exist. Ramtha claims to come from the continent of Lemuria and to have conquered Atlantis. The existence of the two locations are considered of legendary nature, and neither have been found. Furthermore, the claim that Ramtha led an army of 2.5 million contradicts estimates of the world population at 33,000 BC, and her claims of clairvoyant, telepathic, telekinetic and other ESP abilities, for which there is no scientific support, have been heavily criticised by skeptics and scientific communities across the world.[24][25][26] (See also each individual article for further information.)
Ramtha's claim that every person can learn to create their own reality[27] is itself a philosophical paradox. Julian Baggini, in his book "The pig that wants to be eaten" argues that if everyone was capable of creating their own realities with their minds, it would be problematic as one person could then create a reality in which no one was allowed to create their own realities.[28]
Magician and skeptic James Randi said that Ramtha's believers have "no way of evaluating [her teachings]",[29] while Carl Sagan in his book The Demon-Haunted World says that "the simplest hypothesis is that Ms. Knight makes 'Ramtha' speak all by herself, and that she has no contact with disembodied entities from the Pleistocene Ice Age." He goes on to write a list of questions that Ramtha's answers would help us determine whether he is actually a disembodied entity from the paleolithic times (such as "What were the indigenous languages, and social structure?", "What was their writing like?" or "How does he know that he lived 35,000 years ago?"), and ends by saying that "[i]nstead, all we are offered are banal homilies."[19]
JZ Knight's ex-husband, Jeff Knight, in an interview in 1992 with Joe Szimhart, said that Ramtha's teachings are a "farce" and that they are "just a money making business for her [JZ Knight]". He also said that students of Ramtha's School of Enlightenment are "involved in a very dangerous, very evil corrupt thing".[30]
Attacks and criticism against Ramtha's teachings and Ramtha's School of Enlightenment have also been made by former students of the school. David McCarthy, a Yelm resident and former student of the School between 1989 and 1996, has accused the School of being a cult. He further claims that he was intimidated during his studies there, and he felt like mind control was being exerted by JZ Knight and the school. He said "At one point I was running around scared I was going to get eaten by the lizard people."[31] Mc Carthy became disappointed, not only with his own experience of Ramtha's teachings but also as he had cut ties from his family to become a student as they lived in a different country.[32] This lead McCarthy to form a group called "Life After Ramtha's School of Enlightenment", which questions the authenticity of Ramtha and encourages people to come out and express their experiences after their realisation that the RSE is a cult. The School has also been characterised as a cult by acclaimed skeptic Michael Shermer, in his book "Why People Believe Weird Things".[20]
Glenn Cunningham, a former bodyguard of JZ Knight's, in an interview with David McCarthy details the inner workings of the Ramtha's School of Enlightenment, and criticizes various activities (such as trademarking ideas and phrases that had been coined by other authors many years before - for example, the idea of "Blue Body", or mixing quantum physics with new age ideas, which can be found in Vera Stanley Alder's "From the Mundane to the Magnificent", first published in 1979) of JZ Knight's and aspects of Ramtha which he simply saw as JZ Knight acting. Among the things he mentions is the fact that Ramtha mispronounces the same words that JZ Knight mispronounces, and that Ramtha quotes the same books that JZ Knight has read.[21] Glenn Cunningham admits in the video interview, that he was prone to lying to students when he saw fit or thought that it may help them.[21]
Furthermore, Ramtha's teachings as they are portrayed in the movie What the Bleep Do We Know!?, not only in the general gist of the film (which was directed and funded by students of Ramtha's School of Enlightenment) but also in instances where Ramtha is interviewed on screen, have been heavily criticised by the scientific community across the globe,[33][34][35][36] and skeptics,[37] such as James Randi.[38]
Court cases
JZ Knight has been involved in several court disputes, some personal and others business-related. Knight brought suit against a woman from Berlin named Judith Ravell for disturbing Knight's psychic state and leaving her "hanging in spiritual limbo" during the five years Ravell claimed she was also channeling Ramtha,. The case was brought to the supreme court in Vienna and lasted over five years, at the end of which Austria's supreme court awarded copyright to J.Z. Knight as the sole channelor of Ramtha, and Ravell was made to pay $800 in psychic damages to J.Z. Knight.[11] Another case involving copyright and trademark ownership was JZK, Inc vs. Glandon, in which Joseph Glandon was accused of distributing copyrighted teachings of Ramtha.[39]
In Knight vs. Knight (1992–1995), Jeff Knight alleges that he lost years of his life by postponing modern medical treatment for his HIV infection, due to advice from his wife that Ramtha could heal him. The court decided against him, but he died before he could appeal the court's decision.[40]
Knight, through JZK Inc., accused WhiteWind Weaver, a Thurston County citizen, of stealing Knight's ideas and using her and Ramtha's teachings in her workshops. A trial began on March 10, 2008 in Thurston County Superior Court, and at the end of it Knight was awarded about $10,000 after the court's decision against WhiteWind Weaver.[41]
JZ Knight also refused to attend court as a witness, in a case involving a 15-year old who claimed rape against two students of Ramtha's School of Enlightenment. The 15-year old girl had written a letter to Knight, which mentioned that Wayne Allen Geis, her dancing and acting teacher, had engaged in sexual intercourse with her between 1995 and 1997. The illicit activities had also involved Ruth Beverly Martin. They had apparently told the girl that sexual intercourse would help her to relax and improve her acting ability. Knight invited the girl to a retreat at the school in November 1999.
In the retreat, Knight appeared to go into a trance state in which Ramtha supposedly took over and questioned the girl, her father, Geis and Martin. This inquiry took place on stage in front of an audience of over 800 people for about an hour. Geis and Martin confessed to having molested the girl, and the school contacted authorities. Charged with 10 counts of first-degree sexual misconduct with a minor, Geis and Martin pleaded not guilty and the case went to trial.[42]
Prosecutors were reluctant to have Knight appear in court due to the "circus atmosphere" that would have been created. Knight herself claimed that she had been in a trance and did not remember anything of what was said in the retreat inquiry.[43]







http://en.wikipedia.org/wiki/J._Z._Knight